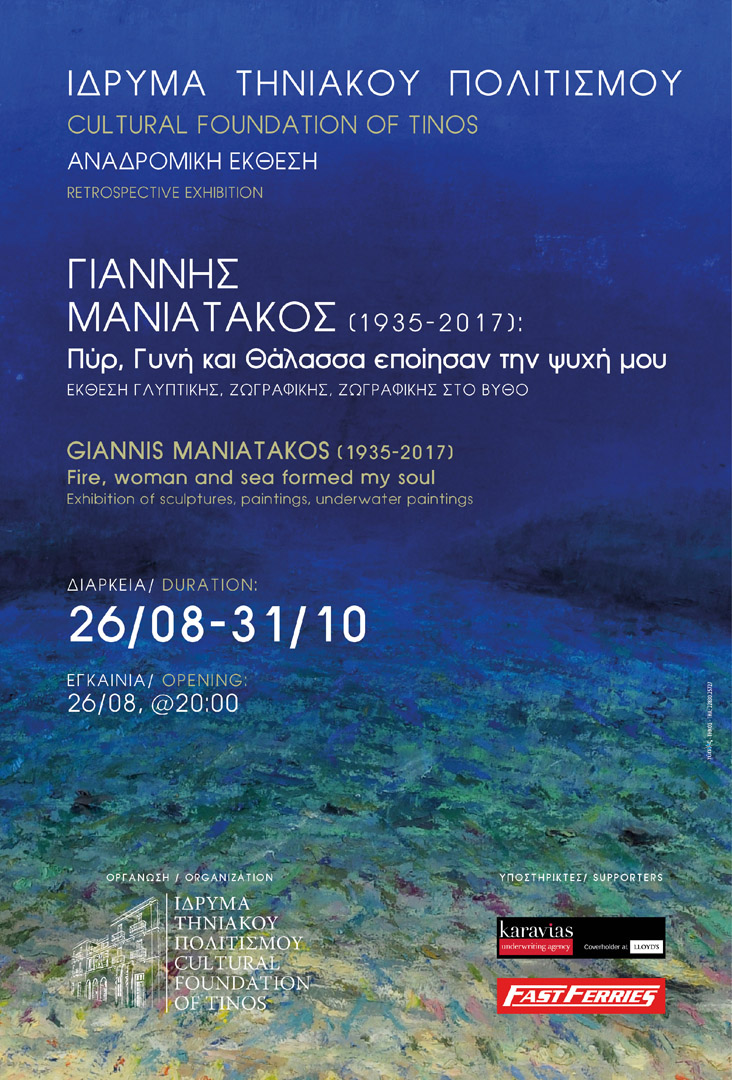 GIANNIS MANIATAKOS (1935-2017)
Fire, woman and sea formed my soul
Exhibition of sculptures, paintings and underwater paintings
G. Maniatakos was born in Flomohori, Mani, in 1935 and was buried there, according to his wish, when he passed away on February 15th, 2017.
He studied at the Athens School of Fine Arts where he graduated in 1965. In 1971, he was appointed Director of the Preparatory and Vocational School of Fine Arts in Pyrgos (Tinos), which he directed until 2001, when he retired. He taught sculpture to more than 300 students, for over 30 years. His students are now artists, specialized marble-technicians working on archaeological missions or freelance marble sculptors who keep alive the tradition of the sacred island of Tinos, modern Greece's first and most important cradle of art, especially for marble art and crafts.
Maniatakos used to spend countless hours under the hot sun of the Aegean, sculpting his statues. Between 1967 and 2015, he turned to painting underwater. He chose to work in this inhospitable and mysterious seabed environment, as he believed that art is only genuine when its creator identifies with it. Underwater painting sprang from an inner urge to render the feelings of a surreptitious underworld visitor, stealthily stealing a glimpse of the indescribable beauty of this foreign world.
According to Maniatakos, sculpture had to be "man-focused and remain youthful". He considered the naked human body to be the most complex object for the artist, because aside from strict proportion and symmetry requirements, the artist had to capture the individual spirit and reinterpret it on the material – and the sculptor's material is entirely different from flesh. In this respect, working under the sun is the noblest and surest way of crafting plastic art, as the artist works with natural light and shadow.
At the exhibition hosted by the Cultural Foundation of Tinos, the visitor will have the opportunity to discover part of Giannis Maniatakos' work, including sculptures, paintings and underwater paintings.
"Art is an inner necessity of man from time immemorial and will be for as long as time exists. Because man, getting a fleeting wind of the god-like substance, yearns to communicate through the visible with the invisible and the eternal that govern the world."
A moment of silence. Let your eyes and souls open …" (G. Maniatakos)