12th JAZZ ON TINOS
27, 28 & 29 / 08 / 2021
Tinos, thanks to the Cultural Foundation of Tinos, has been inextricably linked to Jazz since 2009. In 2020, the measures against the Covid-19 interrupted this continuity. This year, however, our Foundation restarts the Festival and invites Jazz fans to a musical feast with well-known and newcomers to Jazz on Tinos musicians, with new creations as well as classic pieces in original and new versions. And as always with free entrance, in a unique environment that adheres to all the prescribed health protocols for the confrontation of the pandemic, inside and outside the Foundation.
Entrance to the concert hall in order of priority, with Covid-19 vaccination/disease certificate, passport and mask.
Friday, 27/8@ 21:30
Andreas Thermos Sextet
A Jazz reunion with good old friends and musicians is presented at the Cultural Foundation of Tinos island on the first night of the 12th Jazz on Tinos, on August 27, 2021. The five supporters of the festival from the first years of its life- Andreou, Theodosakis, Trivolis, Kontrafouris and Ktistakis- come to the festival stage under the direction of the newcomer on Tinos Andreas Thermos.
The band members having in common their mutual favorite music path will present selected pieces from well-known compositions by Roy Hargrove, Freddie Hubbard, Miles Davis, Herbie Hancock, Tom Waits and others. The music has been arranged for 3 horns, giving more strength and dynamics to the tunes for a powerful live music result and show!
The group was created in 2018 by the common desire of the musicians for a project that will give a different tone to pieces that they already like as well as some originals. It contains interesting arrangements for six performers that follows the Jazz tradition with a more contemporary aesthetic including pop, blues and gospel vibes on the show. This performance is not just a collaboration to showcase an individual project but more of a collective that all the musicians known to the Jazz audiences from their long journey in music, will each give their best.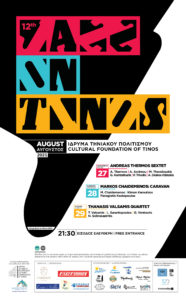 Andreas Thermos: Saxophones
Antonis Andreou: Trombone
Manos  Theodosakis: Trumpet
Giorgos Kontrafouris: Piano
Periklis Trivolis: Upright Bass
Alexandros Drakos Ktistakis : Drums
Saturday, 28/8@ 21:30
Markos Chaidemenos : Caravan
Markos Chaidemenos is a jazz musician who discovered his love for piano at the age of 16 (2005) and his passion for jazz at the age of 22. Although he earned his first degree at Informatics & Telecommunications in National and Kapodistrian University of Athens, he never worked in the field.
After Chaidemenos mastered the classical piano in Athina Conservatory, he completed his jazz piano studies in 2,5 years at Praxis Conservatory. He then received a masters degree in Jazz Performance after graduating from Ionian University of Corfu and that same year (2016) recorded his first album Remains (Live) at the radio show Jazz in the City. Some years later came his second album New Era. Growing up as a jazz musician his inspirations were mainly from the jazz tradition: Oscar Peterson played a major role as well as Chick Corea and Mulgrew Miller.
Caravan, his third album, was recorded in a difficult and strange time, during the 2020-2021 pandemic. This is one of the reasons why Chaidemenos believes the trio sounds fresh and passionate. The three musicians met after a protracted time of lock down and just played their music, embracing the moment of the studio recording.
Markos Chaidemenos: Piano/Compositions
Kimon Karoutzos: Bass
Panagiotis Kostopoulos: Drums
Sunday, 29/8@21:30
Thanasis Valsamis Quartet
On the third and last night of Jazz on Tinos 2021, pianist Thanasis Valsamis of Tinian descent, together with Leonidas Sarantopoulos on the flute, Giorgos Ventouris on bass and Nikos Sidirokastritis on drums, presents his compositions from the album Area Libera released in 2020. The title of the album is inspired by a note at the end of the score of jazz musician Paolo Damiani's track "Round a Turn", "Improvisazione intorno alla propria linea verso un area piu libera e rarefatta" which means: "Improvisation around one's own line towards a freer and rarefied area".
The same idea is reflected in both the composition of the pieces and the production of music: the simple performance of themes and melodic motifs such as these are inherent in solos and group improvisat
ion, in sparse and/or open form.
Thanasis Valsamis: Piano
Leonidas Sarantopoulos: Flute
Giorgos Ventouris: Double Bass
Nikos Sidirokastritis: Drums