Αυτή η εκδήλωση έχει τελειώσει.
(English) SHADES AND LIGHTS
21/07/2019 @ 20:30

-

22:30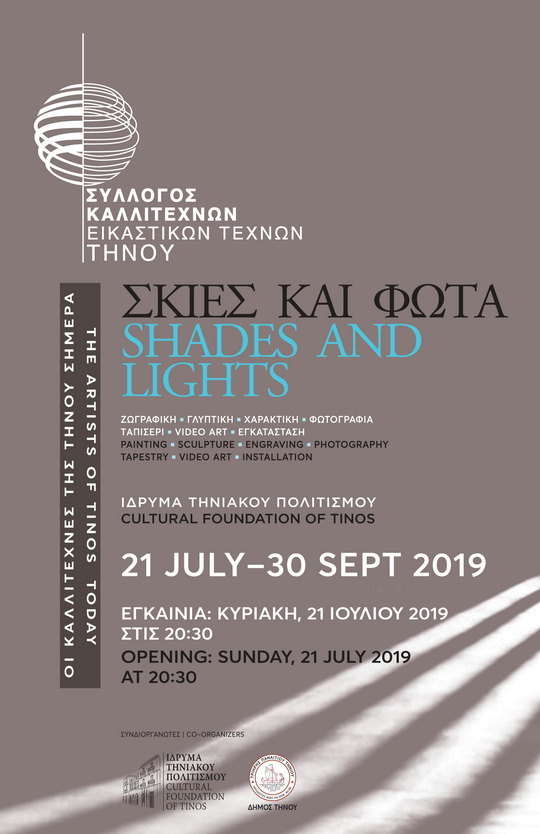 THE ARTISTS OF TINOS TODAY
It's been two years since the Association of Plastic and Visual Artists of Tinos was established in May 2017, when a small crew of artists (we were just 20 then) decided to set up an association to promote interactions with the public and set landmarks in the cultural scene of the island. Today, the association has grown to include 56 active members and boasts 6 collective exhibitions. It brings together artists from various technical backgrounds, such as painters, sculptors, engravers, photographers, weavers and video artists. The title chosen for this year's exhibition is «Shades and Lights» – i.e. the key features for modelling volume, that also play a crucial role in the position, the size, the shape, the expressive dynamic and the plasticity of works of art.
Each artist using their individual style and approach to capture the unique Tinian light and unparalleled charm of the island landscape but at the same time emphasizing the spirituality that encompasses both the place and the relentless march of time, that is domestic tradition and identity. The Artists of Tinos whether they are local or visitors who have relocated here, whether Greek or foreign are inspired by the same incorporeal tones of light and shadow, constantly creating from nothing major and minor miracles. If one is open and sensitive enough to see and perceive the constant game between the natural and metaphysical it can be understood. There are artists who insist on the submission of nature, others who delve into its hidden geometry, those who reveal the secret structure of the form and others who, using the title "darkness and light" or "white and black", show various meanings but also image alteration. Others seek to narrate a story through the images that are hidden in every substance, stone, metal, wood, oil or acrylic, charcoal, or the egg-tempera. Others insist on the conundrum that is hidden in the transformation of the material itself. In the change from sensation to aesthetics and from natural phenomenon to transcendental. The ultimate goal of all participating artists is to release in every way the poetry that is hidden in materials and art, instead of being purely decorative becomes a revolutionary power in our everyday life.
 Inauguration: SUNDAY 21st JULY @ 8:30 pm, CULTURAL FOUNDATION OF TINOS Duration of the Exhibition: JULY 21 – 30 SEPTEMBER 2019 CURATED BY MANOS STEFANIDIS