11th Jazz on Tinos
24/08/2019 @ 21:30

-

26/08/2019 @ 21:30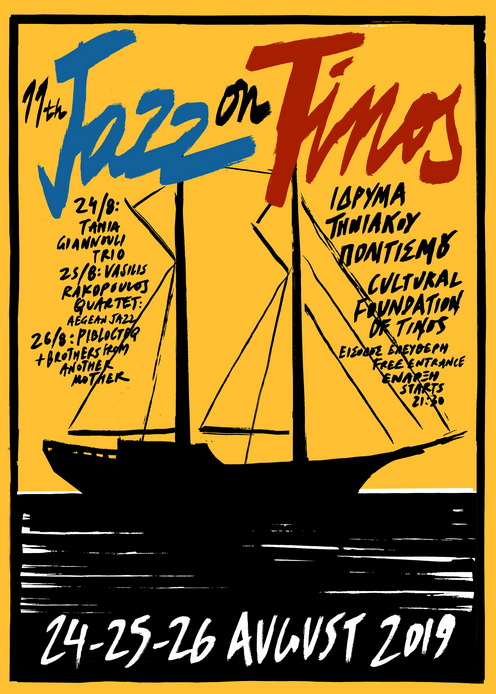 11th Jazz on Tinos
24, 25, 26/ 8/ 2019
Jazz music will again fill Tinos' summer nights in August with unique musical pieces performed by internationally renowned bands. The 11th Jazz on Tinos festival will be there at the Cultural Foundation of Tinos island on 24, 25 & 26 August 2019 for a three-day feast dedicated to music, a sail-off to meet known and unknown jazz pieces. Tania Giannouli's trio promises listeners a "dream of eternity" at the verge of East and the West (24/8), Aegean Jazz band led by Vassilis Rakopoulos will blend Aegean music with Jazz (25/8), Pibloctoq will present the musical brilliance of three young creators and Brothers From Another Mother led by drummer Spyros Panayiotopoulos will guide us through a journey in Jazz from the '50's till today (26/8).
24/8
Tania Giannouli Trio
Tania Giannouli: piano
Andreas Polyzogopoulos: trumpet
Kyriakos Tapakis: oud
The rising composer and pianist Tania Giannouli along with two acclaimed Greek musicians – Andreas Polyzogopoulos (trumpet) and Kyriakos Tapakis (oud) – form a unique trio that will highlight the eccentricity of a different kind of instrumentation, blurring the boundaries between East and West. Hot on the heels of its sold-out performance at the Jazzfest Berlin in November 2018, the band continued with a concert at Stavros Niarchos Foundation and a performance in Jazz ahead in Bremen. The German magazine JAZZTHETIC included the band's concert in Berlin in its list for the "best concerts of 2018" and reviews have been written by the US magazine Downbeat, the German magazine Pianiste and the Greek magazine Avopolis.
Spanning a remarkable range of styles, Tania Giannouli's music is hard to tag, as it is inspired by many different traditions. What we do know, however, is that her music "invites the listener to dream of eternity." (Jazzspace)
25/8
Vasilis Rakopoulos Quartet: Aegean jazz  
Vasilis Rakopoulos, guitar
Andreas Polizogopoulos, trumpet
Giorgos Kontrafouris, piano and keyboard
Vasilis Podaras, drums
The band has a special evening in store, with music idioms inspired by the greater area of the Aegean and musical developments embedded in contemporary jazz music currents. The idea of Aegean Jazz project was born in November 2010, echoing the success of Markus Stockhausen' and Vasilis Rakopoulos' concerts in the context of Goethe Institut and University of Macedonia events. In the following years, the project toured mostly the Cycladic islands in the summer. In 2019, the Aegean Jazz project will include three exquisite musicians that accompany V. Rakopoulos in playing his guitar: Andreas Polyzogopoulos that will play the trumpet, Giorgos Kontrafouris at the piano & synthesizer and Vassilis Podaras playing drums. It's not just the original compositions that display and project the simplicity of the Aegean Culture, but also the way it is approached and performed, looking for an upward sound, a sound akin to the light of the Cyclades.
26/8
Pibloctoq
Yiorgos Bereris, piano
Lampros Papanikolaou, double bass
Giannis Papadoulis, drums
Pibloctoq is a form of expression made by three young musicians with common experiences, connected by creativity, exploring music through their original compositions. Sounds and improvisation that bring to mind European jazz, Mediterranean sounds, free forms, but also fiery moments that can grip the audience.
They have been collaborating for the past 8 years since their early steps in the Jazz Department of the Ionian University. Now graduates, they have been living and performing at the music scene of Athens where, despite their young age, they have made a great impact collaborating with great jazz musicians.
Brothers From Another Mother
Philippos Pappas, tenor saxophone
Panagiotis Kapampelis, guitar
Raphael Meleteas, piano
Periklis Trivolis, bass
Spyros Panagiotopoulos, drums
B.F.A.M. (Brothers From Another Mother) were founded by drummer Spyros Panagiotopoulos. The group also consists of Philip Pappas (tenor saxophone), Panagiotis Kapsampelis (guitar), Raphael Meleteas (piano) and Periklis Trivolis (bass).
They will present their own compositions, as well as pieces of the '50s and '60s, adapted both to tradition and to the vision for the future of mainstream jazz.